Split Hold'em
Rules and Features of Split Hold'em Poker
Split Hold'em is an exciting variation of Texas Hold'em that introduces its own unique features to the standard rules of the game. Unlike the usual Texas Hold'em setup, Split Hold'em has not one but two boards. In this version of poker, there is an opportunity to split the pot between two players who have the strongest and weakest hands, creating a unique dynamic in the game.
Rules of Split Hold'em
The rules of Split Hold'em are similar to regular Texas Hold'em but have their own distinct features. In this game, two starting hands are dealt, and on the flop, turn, and river, the community cards are divided into two parts, creating two separate boards. This provides two chances to win in each hand.
As in traditional Hold'em, each player is dealt two private cards face down. Then, a round of betting takes place. After that, the flop's community cards are revealed. An important difference is that each community card is split into two halves, forming two separate boards. Subsequent betting rounds take place on the turn and river for each of the boards. After the betting is completed, players compare their hands with both boards to determine the winners.
Combinations
In Split Hold'em, the card combinations are the same as in standard Texas Hold'em. They include the following options:

Combinations are calculated separately for each of the boards. Players can use one, both, or even none of their hole cards for each board. Winners on each board are determined by traditional poker rules.
Strategy for Playing Split Hold'em Poker
The strategy for playing Split Hold'em poker requires players to have a broader perspective since there are two boards and two chances to win. It's important to consider not only your hole cards but also possible combinations for each board. Aim to build strong combinations on both boards to increase your chances of winning.
Pay attention to the community cards and understand which combinations can be formed by you and your opponents. When you have a strong hand, try to maximize the pot.
Variations of Split Hold'em Poker
This is a relatively new variation of the game, so there aren't as many variations of Split Hold'em available. Typically, it is played with both limit and no-limit structures, similar to Texas Hold'em.
Differences Between Split Hold'em Poker and Other Poker Variants
The main difference between Split Hold'em and standard Texas Hold'em is the additional objective of simultaneously creating both a strong and weak hand. In Split Hold'em, players have two independent boards and two chances to win in each hand. This significantly changes the dynamics of the game and the strategy involved.
Where to Play Split Hold'em Poker Online
To play poker with real players, you can create an account on the popular online platform "Pokerdom." Here, you will find numerous tables and tournaments not only for this poker variant.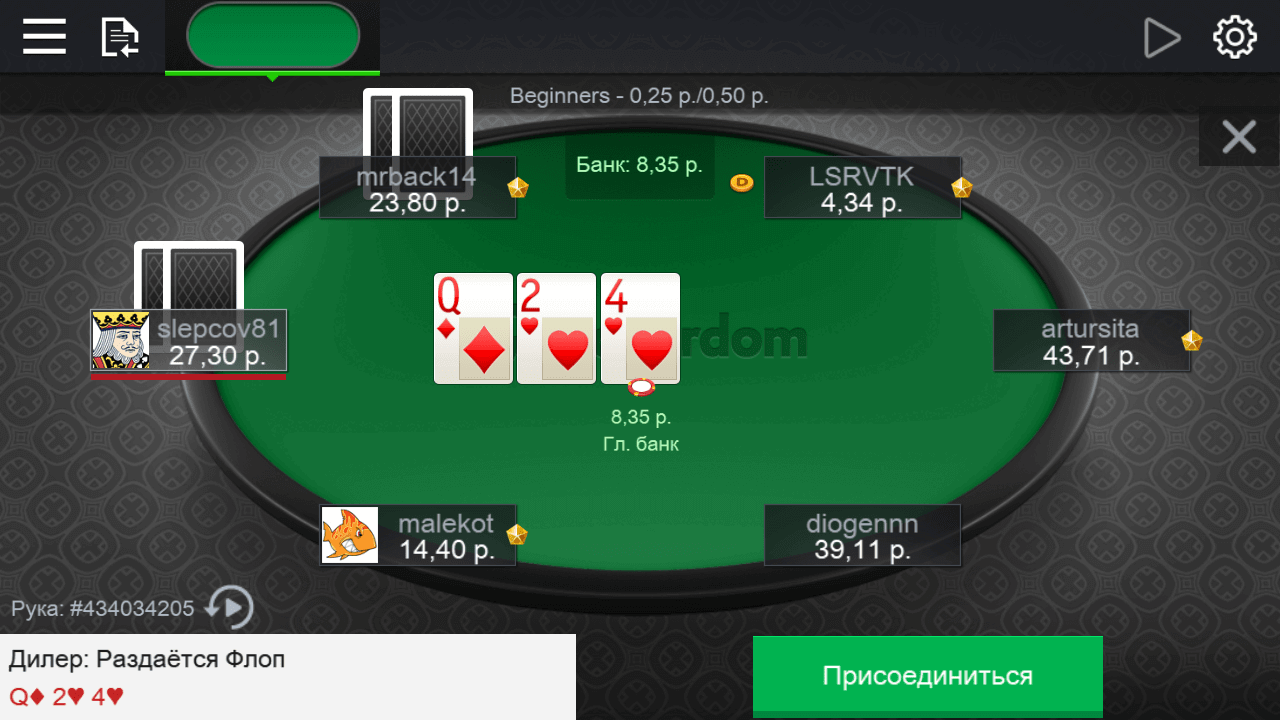 You can also play Split Hold'em against the computer on the Pokerdom website. This is an excellent way to practice, test different strategies, and explore various versions of the game. Beginners are recommended to start playing poker against the computer to learn all the nuances.
Additionally, you can play Split Hold'em with a friend. You can create a private table and invite your friend to compete with you.
Limits in Split Hold'em Poker and Other Features
Limits determine the maximum bets and raises in each round. In Split Hold'em, these limits can vary depending on the platform you're playing on and the selected table. The fundamental principles of betting, such as blinds and raises, remain similar to Texas Hold'em. When making bets, it's important to carefully manage risks due to the potential split of the pot. This can influence the decisions regarding bets and calls made by participants at the table.
Download the Pokerdom App
To play Split Hold'em on the Pokerdom platform, you can download the official app to your device or play through the web version on your computer.
To do this, visit the official platform's website. In the menu, select the "Poker" section. Here, you will find three versions of the app for devices running on Android, MacOS, and Windows. Choose the appropriate operating system, download, and install the file.
How to Start Playing Split Hold'em Poker for Beginners
To start playing poker, you need to visit the poker room's website and create an account. Here's how:
Find the "Registration" button and click on it.
In the opened form, enter your details: phone or email, select the currency, and create a password.
If you have a promo code, enter it in the designated field.
Complete the captcha and click "Registration."
You will need to confirm your account and deposit funds to be able to place bets. After that, you can start playing. We recommend familiarizing yourself with the rules of Split Hold'em poker, studying card combinations. Start by playing against the computer to understand the basics and practice. Gradually, transition to playing against real players at low limits. Don't stop analyzing games and learn from your mistakes.
Poker Training
On the Pokerdom website and other resources, you can find guides and video courses on the rules and strategies of Split Hold'em poker. These are suitable for beginners and help in understanding the basics.
For experienced players, it's beneficial to analyze games, discuss strategies with other professionals, and participate in tournaments. Online poker courses can help systematize knowledge and provide expert guidance.
For players of different skill levels, we recommend reading poker books. They may contain sections dedicated to Split Hold'em, describing strategies and tips.